Damit endlich der Adventskalender aus dem Wohnzimmer verschwindet, habe ich mal wieder ein neues Projekt begonnen: einen Drunkards Path als Wanddeko. Ich habe sowas schönes
hier
gesehen. Hier meine Stoffauswahl. Ein paar Reste aber auch schöne farblich passende unberührte Stoffe. So wird es eine Mischung aus Erinnerngs-Scrappy und neuen Schätzen. Als Hintergrund werde ich Kona Cotton Snow nehmen. Nicht so grell wie weiß.
To finally replace my advent calendar in the living room, I started a new project; A drunkards path wallhanging. I saw this beauty here. Some scraps and some new fabrics. I will use Kona Cotton Snow as background.
Ich habe mir Pappschablonen zum Zuschneiden gebastelt. Das Nähen geht nach 2-3 Probeblöcken auch gut von der Hand. Ich nehme keine Nadeln. Allerdings schneide ich die Teile minimal größer zu als nötig, so dass ich hinterher den Block noch zurecht trimmen kann. Das macht das Zusammensetzen der Quadrate einfach sauberer. Hier mein erster farblich abgesetzter Block in Rot. Insgesamt werden es 3x3 Blöcke.
I made cardboard templates which works well. I made 2-3 sample blocks and now the curves work quickly and well without pinning. I trim down the blocks so I get neat squares. Here is my first finished block in red. There will be 3x3 blocks.
Und der zweite in Lila-Pink:
And a second on in purple-pink :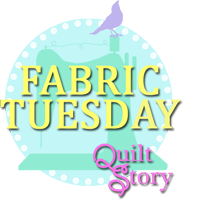 Ciao Susanne