Nach einem Nähmarathon am Wochenende, ist das Oberteil für meinen Kalender fertig geworden. Die Motiv-Blöcke stammen von meinen fleißigen Bienchen aus der
PQF-Be
e :)
After a weekend full of sewing time I finished my advent calendar top.
Stoffe sind von Robert Kaufmann "Sparkle All The Way" - FQ-Bündel vor knapp einem Jahr im
Fat Quarter Shop
erstanden. Dazu Kona Cotton White und rote Streifen und Punkte von "How The Grinch Stole Christmas".
The fabrics are Robert Kaufmanns "Sparkle All The Way" - puchased the FQ bundle nearly a year ago at Fat Quarter Sop. Added Kona White and some "How The Grinch Stole Christmas".
Gestern ebenfalls fertiggestellt wurde eine weihnachtliche Tischdecke. Aber die Lichtverhältnisse gaben kein Foto mehr her (ist generell schlecht im Moment, scheint mir). Das folgt dann morgen.
Auf ans Quilten! :)
Susanne
PS hat jemand von euch Interesse, diese Tasche mit mir zusammen zu nähen? Ich liiiebe diese kleinen Täschchen und habe schon ein bißchen Übung darin. Manche schrecken vielleicht vor der englischen Beschreibung ab, aber da könnte ich ja helfen und eine Übersetzung bereitstellen. Ich will ein paar kleine Weihnachtsgeschenke nähen und da bieten sich solche Täschchen ja an.
Is someone interested in a sew-along? I plan to make some of these bags as Christmas presents. I could provide help because I already have some experience in sewing little pouches.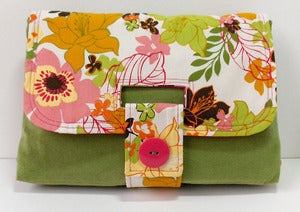 Diese Tasche
(Strap Clutch PDF Sewing Pattern) von Keyka Lou meine ich (ich hab die Anleitung schon erworben). Lust und Zeit? :)
I mean the Strap Clutch PDF sewing pattern from Keyka Lou (I already purchased it).