Hier wie versprochen das Top für einen kleinen Weihnachts-Tischläufer. Die Stoffe habe ich bei
Brigitte
gewonnen :) Und die sind soooo toll. Etwas gedecktere Farben (als ich wahrscheinlich sonst kaufen würde) aber ich mag das Ergebnis total gern. Der Hintergrund ist Kona Cotton Bone - etwas dunkler als Snow. Ich habe Wonky Stars genäht (
inspiriert von hier
) und außen einfach eine Scrappy Border.
Here is the top of a little Christmas table runner. I won the fabrics from Brigitte. I sewed wonky stars (inspired here). The background is Kona Cotton Bone (a little bit darker than Snow). And added a scrappy border.
Gequiltet habe ich mit einem naturfarbenem Quiltgarn, welches perfekt zum Bone passt. Dazu ein bisschen Stickerei mit DMC Verlaufsgarn. 2 Sterne muss ich noch umsticken. Und dann noch Binding annähen.
I quilted some straight lines and stippling with natural cotton thread. And I added some embroidery with DMC Variegated floss. Two more stars to go.
Linking up on fabric tuesday :)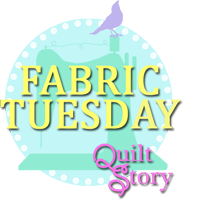 Ciao
Susanne